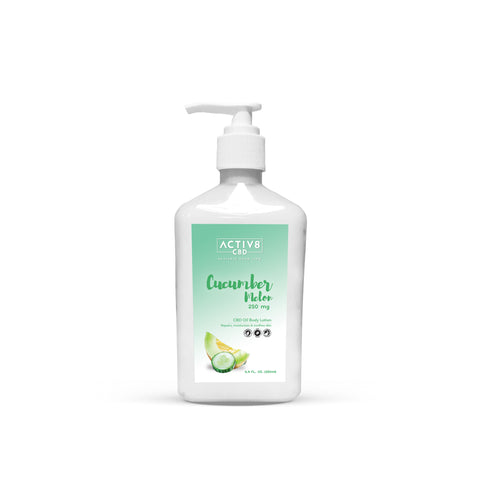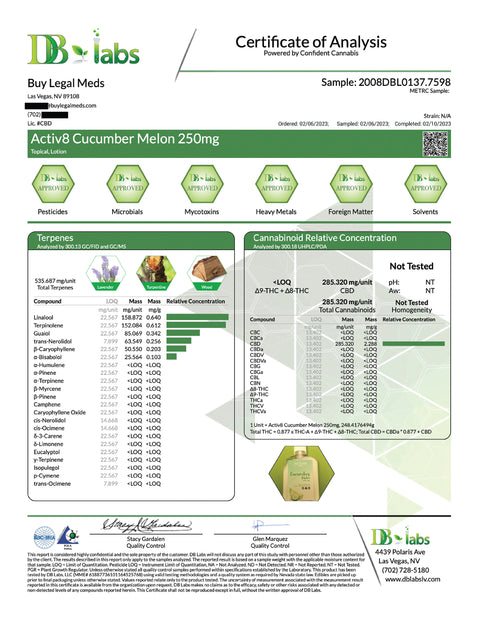 ACTIV8 CBD Lotion: Cucumber Melon - 250mg CBD
Looking for a nourishing and moisturizing lotion that can also provide the benefits of CBD? Look no further! Our Cucumber Melon CBD Lotion is the perfect addition to your skincare routine. Not only is our CBD lotion effective at moisturizing and nourishing the skin, but it's also versatile and paraben-free. You can use it all over your body or as a targeted treatment for specific areas. It's also non-greasy and absorbs quickly, making it easy to incorporate into your daily routine. Try it today and see the difference for yourself! 
Instructions
To use a CBD lotion, clean your skin and pat it dry with a towel. Take a small amount of cream into your palms and gently rub your hands together to warm them up. Apply the lotion to the desired area of your skin, whether it be your face, body, or a specific area you want to target. Use gentle, circular motions to massage the lotion into your skin. Allow the lotion to absorb completely, waiting a few minutes before getting dressed to ensure it has fully absorbed. Repeat the process as needed throughout the day; depending on the specific product and its recommended usage, you can apply the lotion multiple times a day.
Ingredients
Water Deionized, Hemp CBD Oil, Disodium EDTA (Versene NA2), Carbopol (Ultrez 10), Methylparaben, Liquid Germall Plus, Allantoin, Propylene Glycol, White Protopet, Stearic Acid, Cetyl Alcohol, Glyceryl Stearate (GMS), Dimethicone (Silicone Fluid SF 96/100), Mineral Oil, TEA 99%, Propyl Paraben, Aloe Vera Gel, Fragrance.
Product Notes
8.4 FL and non-psychoactive.
Shipping
Attention: Due to rising temperatures, if you're purchasing any of our edible products, we strongly recommend selecting the 'Cold Shipping' option at checkout to ensure they arrive in perfect condition. Please be aware that we cannot assume responsibility for any melting that may occur if this shipping option isn't chosen. Thank you for understanding and happy shopping!
Our processing time is typically up to two business days to ship, but can be up to 3 business days if we are experiencing a high volume of orders. However, if you place your order before 2 pm Pacific Standard Time (PST) on any day of the week (excluding holidays), we will do our best to ship your order on the same day, but this is not guaranteed.

Please note that we cannot guarantee shipping times once we bring your shipment to USPS as we are not affiliated with the United States Postal Service (USPS). If your package shows as "delivered" according to the USPS tracking information, but you have not received it, we recommend contacting USPS for further assistance. If contacting USPS does not get your package to you, please provide proof of conversation with USPS and email us at support@buylegalmeds.com.
30-Day Guarantee
Don't love your purchase or something went wrong? No problem! We offer a 30-day money-back guarantee or replacement for any unsatisfied customers. Read our refund policy page for more information located at the footer of our website.
No more dryness
CBD lotion is a skin-applied product containing cannabidiol (CBD) as a key ingredient. The lotion can help alleviate pain, reduce inflammation, and improve the overall appearance and health of the skin. Along with CBD, it also contains elements like essential oils, which give a relaxing and pleasant aroma and enhance the effectiveness of CBD. In general, CBD lotions are considered to be safe and well-tolerated. However, It's always recommended to check the label and ingredients, consult with a doctor before using it, and be more cautious if you are pregnant, breastfeeding, or have any other underlying conditions that might be affected.
Frequently Asked Questions
Learn more about our ACTIV8 CBD Lotion
CBD lotion is a topical product applied to the skin and contains cannabidiol (CBD) as an active ingredient. CBD is a chemical compound found in the cannabis plant that is known for its potential therapeutic properties.
How does CBD lotion work?
CBD lotion is applied to the skin and works by interacting with the body's endocannabinoid system (ECS). The ECS is a network of receptors throughout the body, including in the skin. When CBD is applied topically, it is thought to interact with these receptors to produce various potential therapeutic effects.
Can I use CBD lotion on all skin types?
CBD lotion is suitable for most skin types. However, if you have sensitive skin, it's always a good idea to do a patch test before using the product on a larger skin area.
Are there any side effects of using CBD lotion?
CBD lotion is considered safe for most people, but some may experience mild side effects such as dryness or itching. If you experience adverse reactions, stop using them and consult a healthcare professional.
BuyLegalMeds is the world's first CBD dispensary that was established in 2015. We offer only trusted products backed by science and made with the purest ingredients.