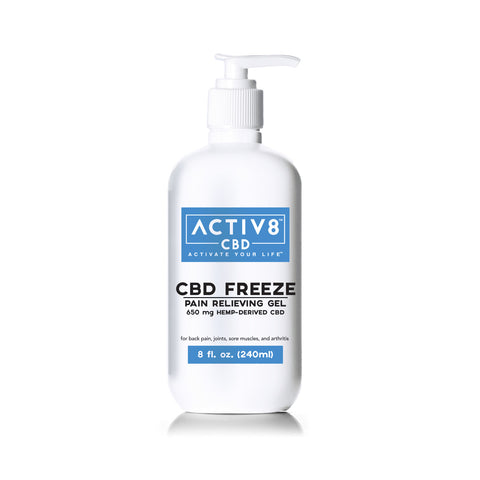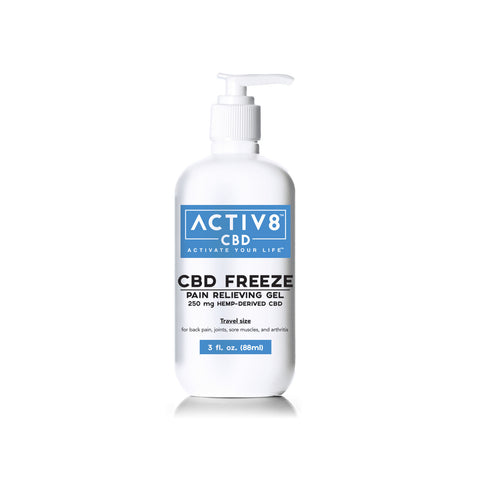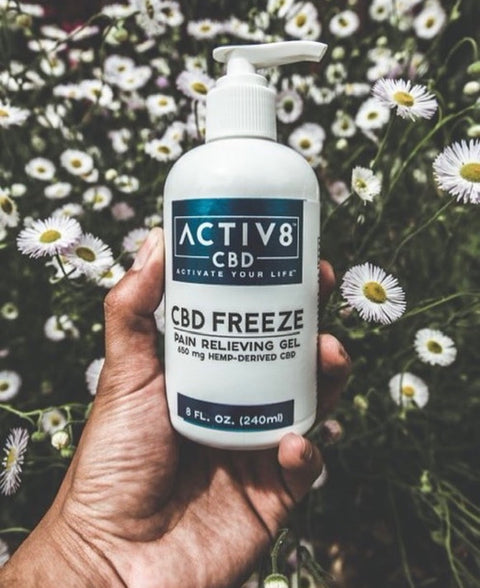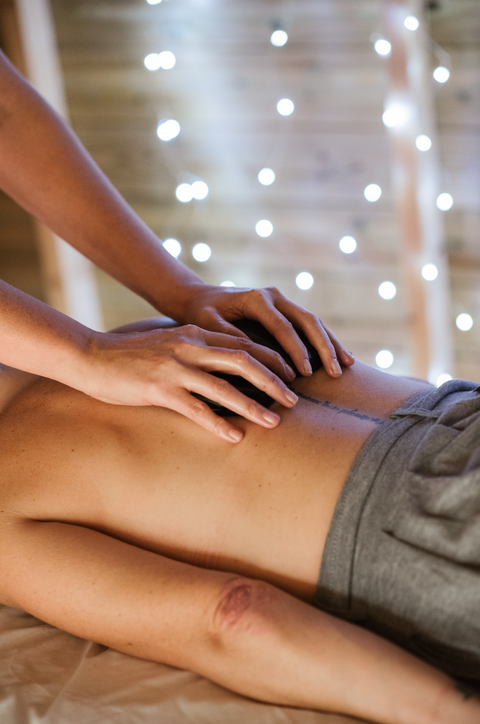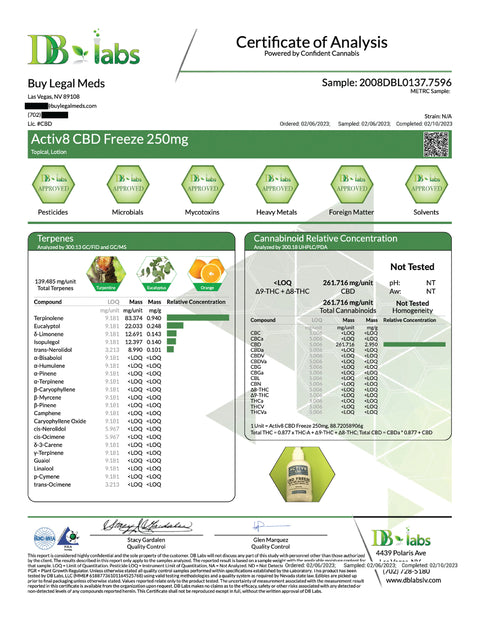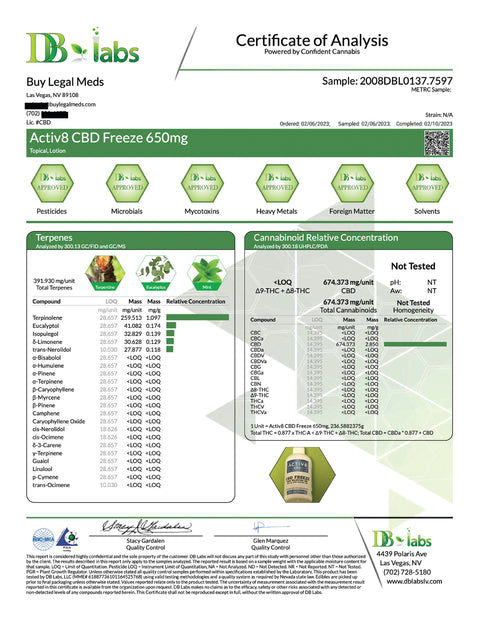 ACTIV8 CBD Freeze Pain Relieving Gel: 250mg & 650mg CBD
ACTIV8 CBD Freeze Pain Relieving Gel: 250mg & 650mg CBD
Looking for relief to start adding to your daily routine? It's time to look no further! Not only is our ACTIV8 CBD Freeze fast-acting, but it's also long-lasting. Its unique formula allows it to be absorbed quickly by the skin and provides hours of relief. It's also non-greasy and easy to apply, making it a convenient choice for on-the-go management. Try our ACTIV8 CBD Freeze gel today and return to your active lifestyle!
Shipped within 1-2 business days.
100% Secure Checkout
Guaranteed Secure
Fast and Discreet Delivery
Description
Shaking the bottle of ACTIV8 CBD FREEZE Pain Relieving Gel is recommended before each use. To use, apply 1-2 pumps of the gel to the affected area no more than 3-4 times per day. This product can be used daily for maximum effectiveness and contains up to 130 servings per bottle. Massage is not necessary for application. If you are using this product on a child under 2 years of age, you should consult with a physician before use.
Ingredients
Hemp CBD Oil, Water, Ethanol, Menthol, Glycerine, Butylene Glycol, Polysorbate 20, Peppermint Oil, Spearmint Leaf Oil, Rosemary Leaf Oil, Eucalyptus Globulus Leaf Oil, Carbomer, Sodium Polyacrylate, Dimethicone, Cyclopentasiloxane, Trideceth-6, Triethanolamine, PEG-PPG 18-18 Dimethicone, Phenoxyethanol, Caprylyl Glycol, Ethylhexylglycerin, Hexylene Glycol. Paraben-free and vegan.
Product Notes
ACTIV8 CBD Freeze is available in 3 oz. and 8 oz. bottles and contains 250mg and 650mg of pure CBD. Each bottle holds up to 49 and 130 servings. THC-free and non-psychoactive will not cause psychoactive effects or show up on a drug test. It can be purchased and consumed without a prescription or medical card, but it is not recommended for pregnant or nursing women or children under 18 years old without parental consent.
Shipping
Attention: Due to rising temperatures, if you're purchasing any of our edible products, we strongly recommend selecting the 'Cold Shipping' option at checkout to ensure they arrive in perfect condition. Please be aware that we cannot assume responsibility for any melting that may occur if this shipping option isn't chosen. Thank you for understanding and happy shopping!
Our processing time is typically up to two business days to ship, but can be up to 3 business days if we are experiencing a high volume of orders. However, if you place your order before 2 pm Pacific Standard Time (PST) on any day of the week (excluding holidays), we will do our best to ship your order on the same day, but this is not guaranteed.

Please note that we cannot guarantee shipping times once we bring your shipment to USPS as we are not affiliated with the United States Postal Service (USPS). If your package shows as "delivered" according to the USPS tracking information, but you have not received it, we recommend contacting USPS for further assistance. If contacting USPS does not get your package to you, please provide proof of conversation with USPS and email us at support@buylegalmeds.com.
100% 30-Day No-Risk Money Back Guarantee
Don't love your purchase or something went wrong? No problem! We offer a 30-day money-back guarantee or replacement for any unsatisfied customers. Read our refund policy page for more information located at the footer of our website.
Get Your CBD Freeze Pain Relieving Gel In 3 Easy Steps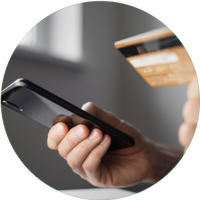 Order Online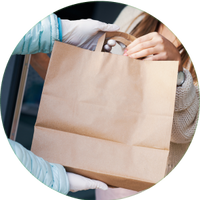 Get It Delivered
Sit back and relax! We'll process your order in 2 business days and bring it to your door in no time.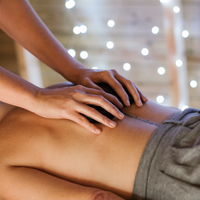 Unbox And Enjoy
Fast relieving gel daily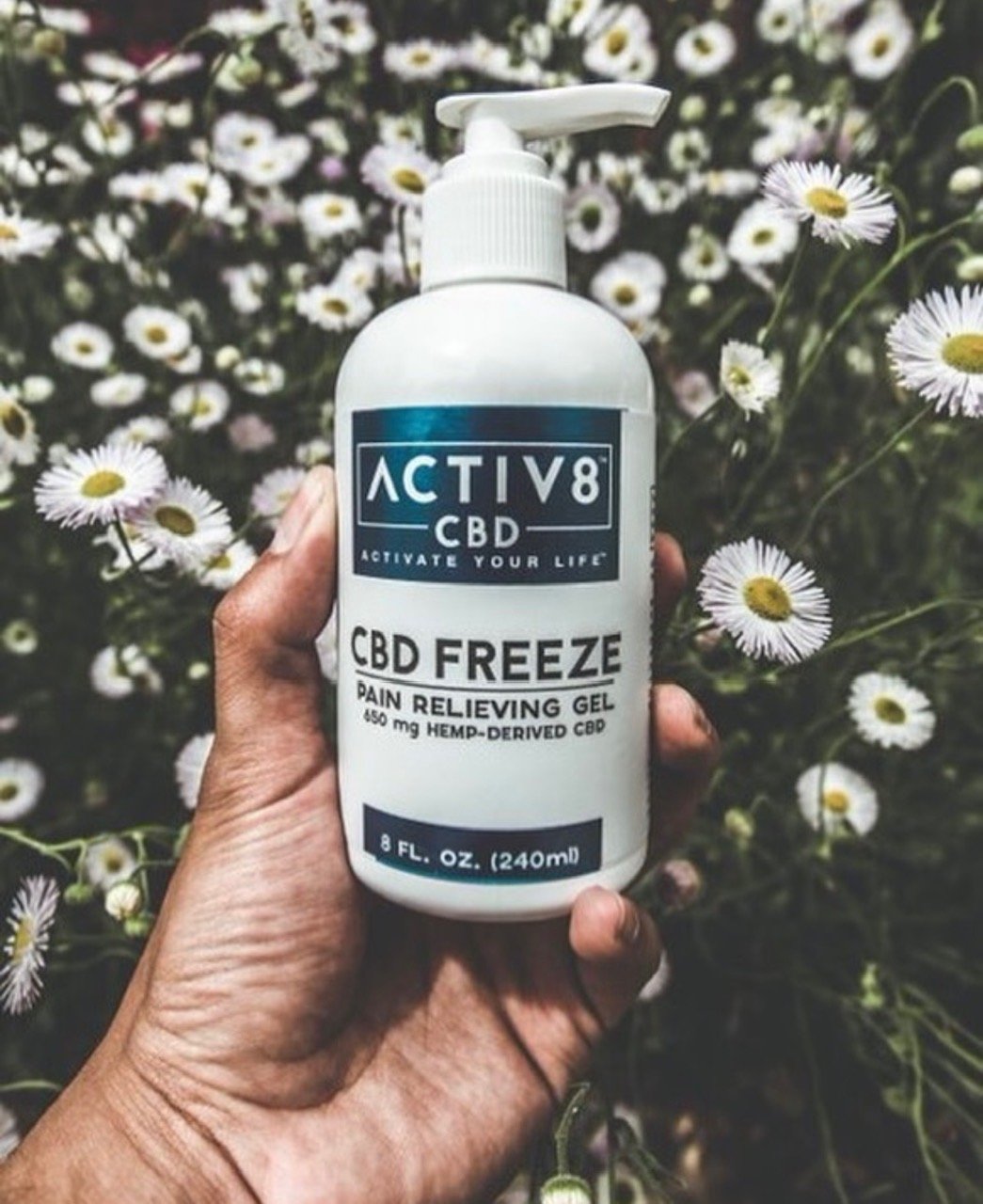 Introducing ACTIV8 CBD Freeze: the ultimate solution for fast and effective relief from muscle and joint pain! This potent gel is formulated with a unique blend of ingredients, including lab-certified, high-quality CBD derived from industrial hemp. Unlike other products on the market, our CBD is free of pesticides, hexane, GMOs, and THC, making it a safe and natural choice for everyone. Perfect for athletes looking to recover from intense workouts and soreness, this non-greasy formula absorbs quickly, leaving your skin feeling soft and smooth. Don't let any ailments hold you back any longer. Try ACTIV8 CBD Freeze today and experience the powerful benefits for yourself! Experience the relief you deserve with ACTIV8 CBD Freeze!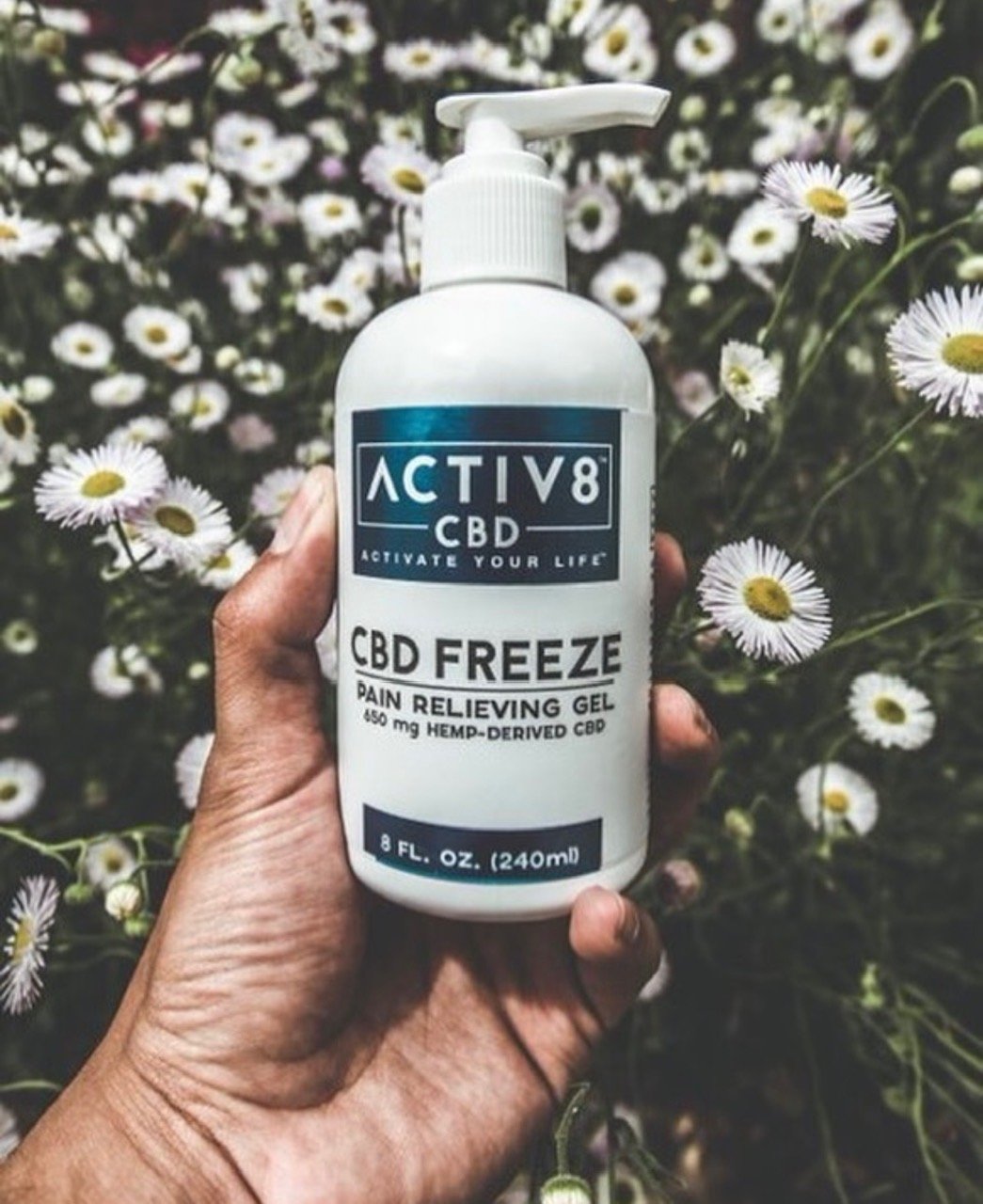 Savor The Flavor, Embrace The Benefits
They look good, and taste even better, but there's more beneath the surface.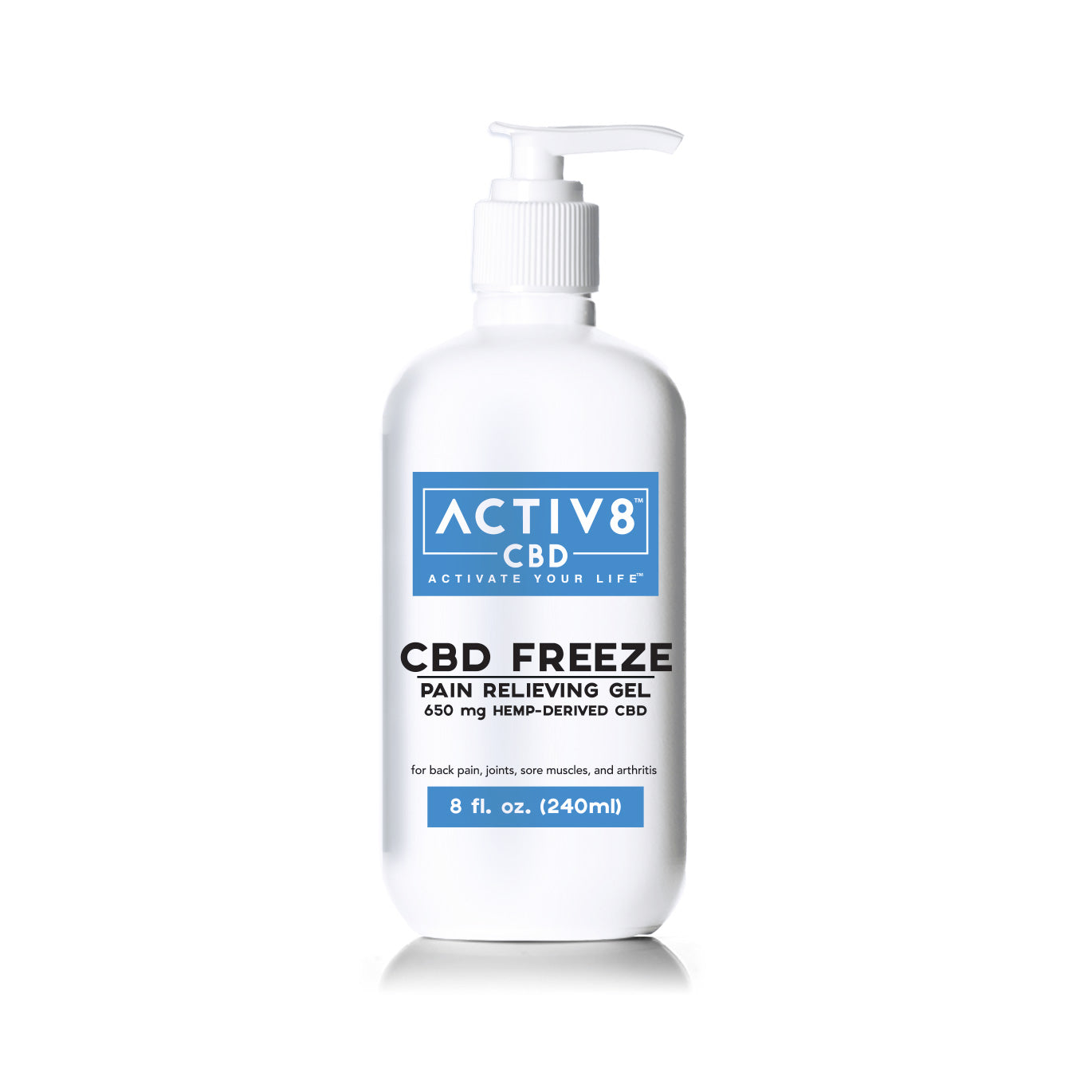 Hand-Crafted
Carefully made by the skilled hands of our experts in our in-house manufacturing facility.
Organic CBD
They are infused with pure, organic CBD oil for an authentic experience with every use.
Precisely Dosed
With 10mg of CBD in each serving, you can customize your experience based on your needs.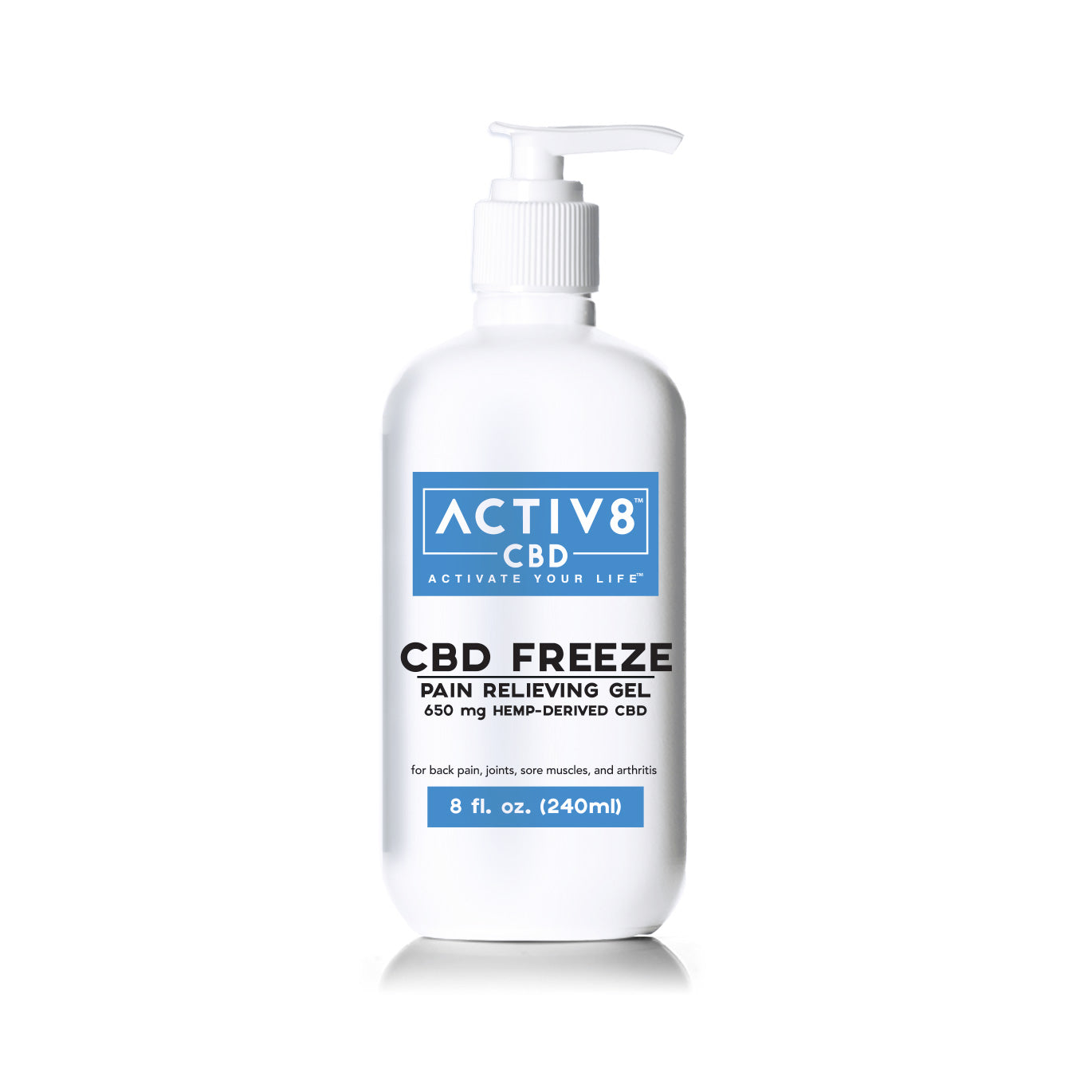 Third-Party Tested
Every batch undergoes rigorous lab testing to determine their purity, potency, and overall quality.
High-Quality Ingredients
We meticulously select the finest ingredients to create gummies that excel in taste and quality.
Natural Flavors
Every time you take a bite, you'll experience a delightful burst of natural and vibrant fruity flavors.
Why Choose Us?
Setting industry standards for over 8 years and still going strong.
features

In-House Manufacturing Company

Lab Tested & Quality Assured

Wide Range Of CBD Products

All-Natural, Premium Ingredients

Proudly Made In The USA
Free shipping
Online shopping
We ship to all 50 states in the USA
Retail shopping
Two locations in Las Vegas, NV
100% NO-RISK 30-DAY MONEY BACK GUARANTEE
We guarantee our products within 30 days. If you're not happy, we will exchange or give a refund.
Frequently Asked Questions
If you have more questions, please contact us at hello@buylegalmeds.com.
What is CBD Freeze Pain Relieving Gel?
CBD Freeze Pain Relieving Gel is a topical product that contains CBD and many other ingredients that is designed to help relieve you in the treated areas.
How does CBD Freeze work?
The CBD in the gel is thought to interact with receptors in the body's endocannabinoid system, which help relieve the treated areas.
How do I use CBD Freeze?
To use CBD Freeze Pain Relieving Gel, simply apply a small amount to the affected area and massage it until it is fully absorbed. It can be used as needed throughout the day.
Is CBD Freeze safe to use?
CBD is generally considered safe, but it's always a good idea to speak with a healthcare professional before using any new product, especially if you have any pre-existing health conditions or are taking any medications.
Years Of Happy Customer Feedback To Share
We've made a difference in thousands of lives through CBD
Explore Our Customer Favorites
Products frequently reordered for their quality and effects