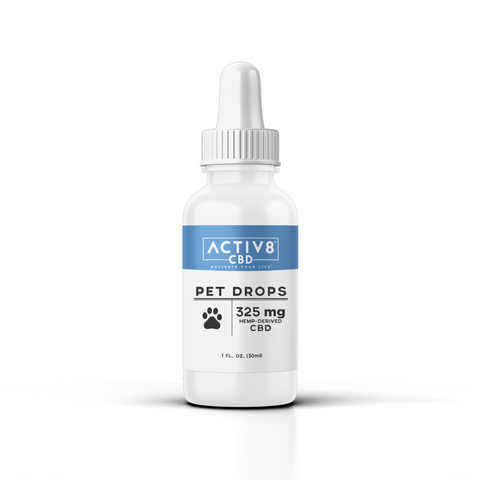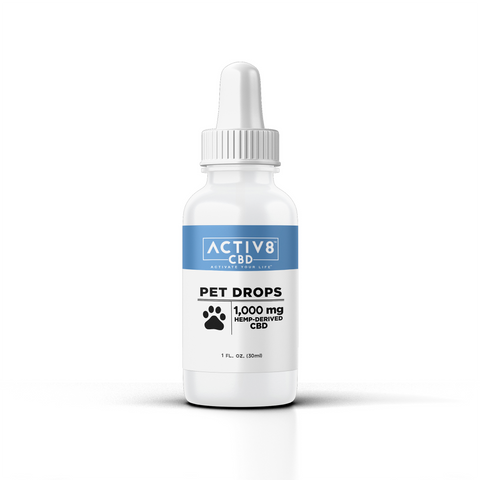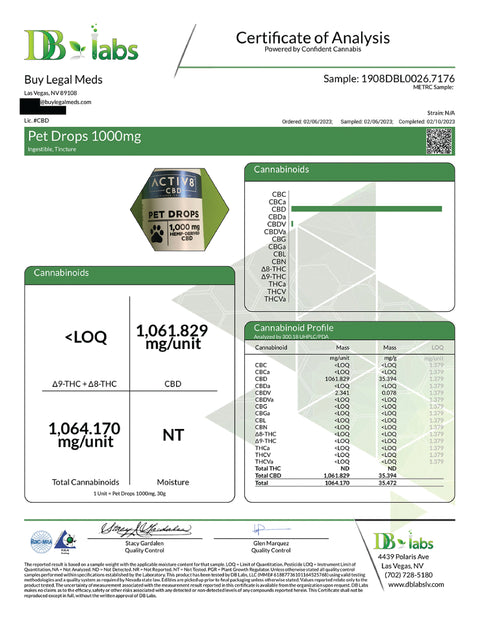 ACTIV8 CBD Pet Drops: 325mg & 1,000mg CBD
Our CBD Pet Drops are a natural, safe, and effective way to support your furry friend's overall well-being. Made with high-quality CBD oil and other natural ingredients safe for your pet(s), our pet drops are easy to administer and are well-tolerated by most pets. They come in a convenient dropper bottle, making it easy to give your pet the exact dosage they need. Give your pet the support they deserve with our ACTIV8 CBD Pet Drops – we're confident they won't be able to resist!
Instructions
Put in pets mouth or on treat. Pets under 20 pounds: Start with 3-5 drops simultaneously, 3-4 times per day. Pets over 20 pounds: Start with 5-8 drops simultaneously, 3-4 times per day. All pets might react differently. Please monitor your pets to ensure they are receiving the proper dosage.
Ingredients
CBD Oil, Hemp Seed Oil, and Grape Seed Oil. All-natural ingredients.
Product Notes
1 FL OZ. Per bottle, up to 50 servings per bottle.
Shipping
Attention: Due to rising temperatures, if you're purchasing any of our edible products, we strongly recommend selecting the 'Cold Shipping' option at checkout to ensure they arrive in perfect condition. Please be aware that we cannot assume responsibility for any melting that may occur if this shipping option isn't chosen. Thank you for understanding and happy shopping!
Our processing time is typically up to two business days to ship, but can be up to 3 business days if we are experiencing a high volume of orders. However, if you place your order before 2 pm Pacific Standard Time (PST) on any day of the week (excluding holidays), we will do our best to ship your order on the same day, but this is not guaranteed.

Please note that we cannot guarantee shipping times once we bring your shipment to USPS as we are not affiliated with the United States Postal Service (USPS). If your package shows as "delivered" according to the USPS tracking information, but you have not received it, we recommend contacting USPS for further assistance. If contacting USPS does not get your package to you, please provide proof of conversation with USPS and email us at support@buylegalmeds.com.
30-Day Guarantee
Don't love your purchase or something went wrong? No problem! We offer a 30-day money-back guarantee or replacement for any unsatisfied customers. Read our refund policy page for more information located at the footer of our website.
Relief for your pet friend
A revolutionary new way to keep your furry friend healthy and happy! These easy-to-use drops are packed with the power of CBD, a natural compound that has been shown to help with a wide range of health issues, including anxiety, pain, and inflammation. Whether your pet is dealing with a chronic condition or just needs a little extra support to stay active and comfortable, ACTIV8 CBD Pet Drops are the perfect solution. With a delicious bacon flavor that pets love, these drops are easy to administer and provide fast, effective relief. Give your pet the gift of health and happiness with ACTIV8 CBD Pet Drops today!
Frequently Asked Questions
Learn more about our ACTIV8 CBD Pet Drops
How can CBD pet drops help my pet?
CBD can be very beneficial in helping to ease anxiety, promoting healthy joints and digestion, maintaining the body's normal inflammatory response, addressing discomfort, loss of appetite and more.
How long will it take for my pet to see results?
According to the feedback we receive from pet parents, benefits are evident between five minutes and one hour, averaging around twenty minutes. Every pet is different. We recommend that you observe your pet's response. If there isn't a noticeable change within the hour, administer more.
Are CBD pets drops safe for my pet friend?
We have formulated a CBD product that is safe for your pet friend.
Benefits are usually observed in anywhere from five minutes to one hour. For some pets with more severe issues, it may take a week or two of two servings per day to saturate the system and provide desired results.
BuyLegalMeds is the world's first CBD dispensary that was established in 2015. We offer only trusted products backed by science and made with the purest ingredients.