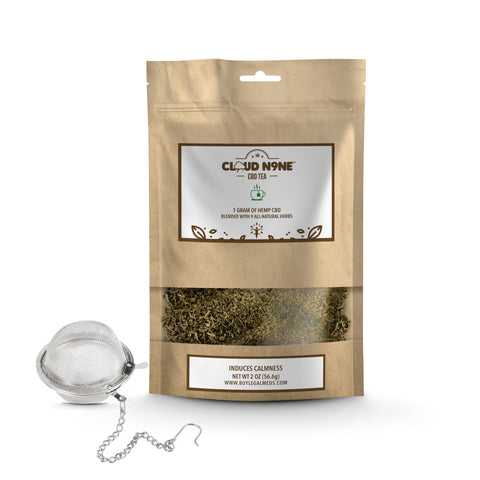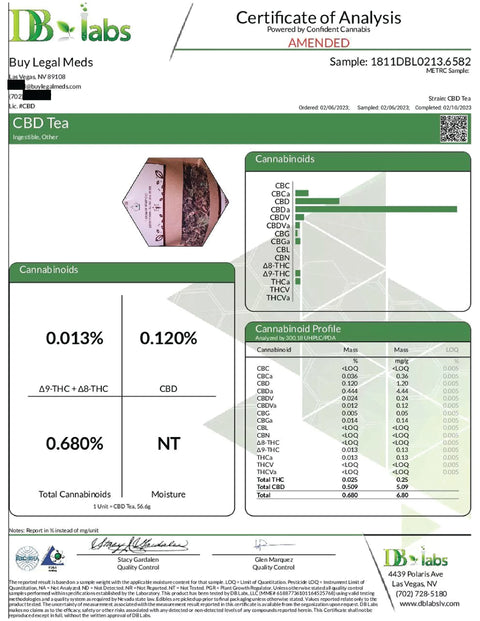 Cloud N9ne CBD Tea
Looking for a delicious and natural way to enjoy the benefits of CBD? Look no further than Cloud N9ne CBD Tea! Our tea is made with a proprietary blend of 1 gram of premium hemp CBD flower and nine all-natural herbs, carefully selected for their complementary properties. Whether you're looking to relax after a long day or simply want to incorporate the potential health benefits of CBD and herbs into your daily routine, Cloud N9ne CBD Tea is a perfect choice. Try it today and discover this exceptional blend's unique, soothing effects.

Instructions
To use CBD tea, fill a pot or kettle with water and bring it to a boil. Place a stainless steel tea ball in a mug or teapot, pour the boiling water over it and let it steep for 5-7 minutes. If desired, you can add honey for taste. Each bag of CBD tea can make up to 20 cups of tea, and if you want to get the most out of your tea, you can steep it a second time for an additional 10-14 minutes to make a double batch. Just be sure to remove the tea ball after the first step to avoid over-extraction the tea leaves.
Ingredients
Hemp CBD flower, Melissa Officinalis, Scutellaria Lateriflora, Nepeta Cataria, Piper Methysticum, Ocimum Tenuiflorum, Passiflora, Lactuca Virosa, Turnera Diffusa, Salix Alba.
Product Notes
Each tea bag contains 1 gram of highly potent CBD flower and can be steeped twice. The tea is available in two versions, with and without a stainless steel steeping ball. It is easy to carry, prepare, and enjoy CBD discreetly, and the 9 herbs in the blend are known to be effective relaxants. CBD will not cause you to fail a drug test as it does not contain THC.
Shipping
Attention: Due to rising temperatures, if you're purchasing any of our edible products, we strongly recommend selecting the 'Cold Shipping' option at checkout to ensure they arrive in perfect condition. Please be aware that we cannot assume responsibility for any melting that may occur if this shipping option isn't chosen. Thank you for understanding and happy shopping!
Our processing time is typically up to two business days to ship, but can be up to 3 business days if we are experiencing a high volume of orders. However, if you place your order before 2 pm Pacific Standard Time (PST) on any day of the week (excluding holidays), we will do our best to ship your order on the same day, but this is not guaranteed.

Please note that we cannot guarantee shipping times once we bring your shipment to USPS as we are not affiliated with the United States Postal Service (USPS). If your package shows as "delivered" according to the USPS tracking information, but you have not received it, we recommend contacting USPS for further assistance. If contacting USPS does not get your package to you, please provide proof of conversation with USPS and email us at support@buylegalmeds.com.
30-Day Guarantee
Don't love your purchase or something went wrong? No problem! We offer a 30-day money-back guarantee or replacement for any unsatisfied customers. Read our refund policy page for more information located at the footer of our website.
Sip and relax
Drinking CBD tea can be a great way to incorporate CBD into your daily routine. In addition, CBD tea is easy to prepare and can be a convenient and enjoyable way to consume CBD. It is also a discreet option for those who prefer not to use traditional CBD products, such as oils or capsules. Overall, drinking CBD tea may have several potential health benefits and can be a worthwhile addition to your daily routine.
Frequently Asked Questions
Learn more about our Cloud N9ne CBD Tea
Will I get high drinking CBD tea?
BuyLegalMeds is the world's first CBD dispensary that was established in 2015. We offer only trusted products backed by science and made with the purest ingredients.