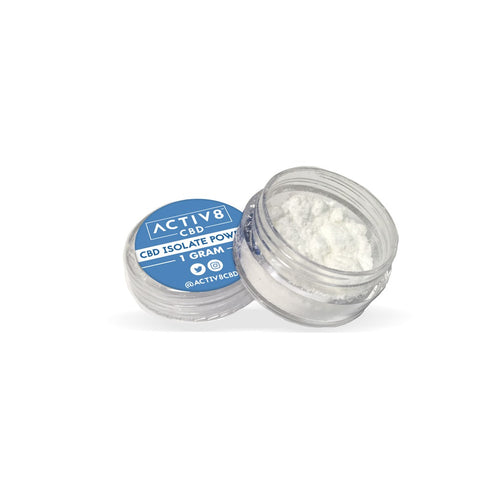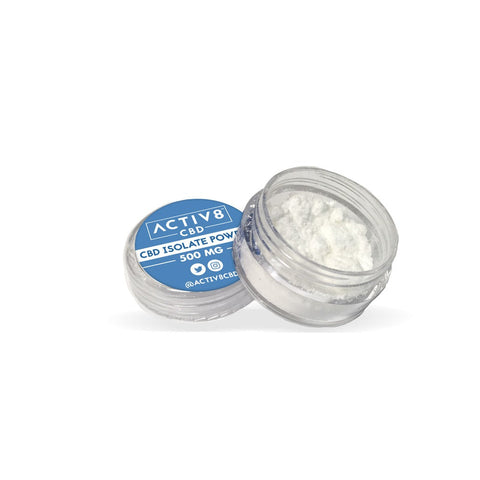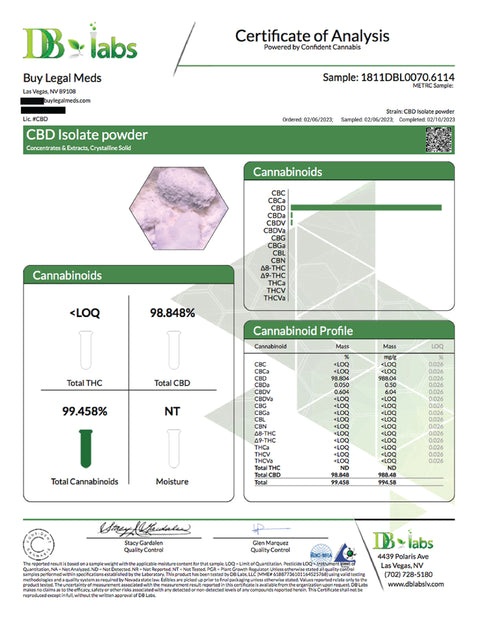 ACTIV8 CBD Pure Isolate Powder: 500mg & 1,000mg CBD
Have you been looking for a high-concentration CBD product that you can easily mix into your favorite foods and beverages, but are unable to find one? Look no further than ACTIV8 CBD Isolate Powder! Our pure isolate powder is the purest CBD, containing 99% and no THC. This versatile powder can be blended into various products, such as coffee, soft drinks, supplements, and more. Try ACTIV8 CBD Isolate Powder today and see the difference for yourself! 
Instructions
To use this product, apply a small amount to your desired food or drink, smoke it in dab form, or sprinkle it onto CBD flower or food. If you want to be precise with your dosage, it is recommended to use a scale to measure the desired amount, with a recommended dose of 10mg - 60mg for adults.
Ingredients
Product Notes
Shipping
Attention: Due to rising temperatures, if you're purchasing any of our edible products, we strongly recommend selecting the 'Cold Shipping' option at checkout to ensure they arrive in perfect condition. Please be aware that we cannot assume responsibility for any melting that may occur if this shipping option isn't chosen. Thank you for understanding and happy shopping!
Our processing time is typically up to two business days to ship, but can be up to 3 business days if we are experiencing a high volume of orders. However, if you place your order before 2 pm Pacific Standard Time (PST) on any day of the week (excluding holidays), we will do our best to ship your order on the same day, but this is not guaranteed.

Please note that we cannot guarantee shipping times once we bring your shipment to USPS as we are not affiliated with the United States Postal Service (USPS). If your package shows as "delivered" according to the USPS tracking information, but you have not received it, we recommend contacting USPS for further assistance. If contacting USPS does not get your package to you, please provide proof of conversation with USPS and email us at support@buylegalmeds.com.
30-Day Guarantee
Don't love your purchase or something went wrong? No problem! We offer a 30-day money-back guarantee or replacement for any unsatisfied customers. Read our refund policy page for more information located at the footer of our website.
Pure and natural
CBD isolate is prevalent for those looking to incorporate CBD into their daily routine. Whether you're looking to add it to your favorite smoothie or bake it into your favorite recipe, CBD isolate is a versatile and convenient option. It's easy to measure precise dosages, making it an excellent choice for those looking to take specific amounts of CBD. Additionally, because it is isolated from other compounds, it is a pure form of CBD free from THC and other contaminants. Whether you're a busy professional looking for a quick and easy way to get your daily dose of CBD or a wellness enthusiast looking to add CBD to your self-care routine, CBD isolate is an excellent choice for various lifestyles.
Frequently Asked Questions
Learn more about our ACTIV8 CBD Pure Isolate Powder
CBD isolate is a pure form of CBD that has had all other compounds, including THC, removed. This results in a powder that is 99% or more pure CBD.
CBD isolate is made by extracting CBD from the cannabis plant and then using various methods to purify and isolate the CBD. This can include using solvents, such as CO2, to remove the CBD and then using chromatography to purify and isolate the CBD.
CBD isolate can be used in various ways, such as: Ingested: CBD isolate can be consumed by mixing it into food or drinks or placing it under the tongue. Vaporized: CBD isolate can be vaporized using a special vaporizer. Topically: CBD isolate can be applied by mixing it into a lotion or oil. Dabbed: CBD isolate can be dabbed using a special rig, similar to how you would use wax concentrates
Are there any side effects of using CBD isolate?
CBD isolate is safe for most people, but some may experience mild side effects such as dry mouth or drowsiness. The chances of this happening are few and far between.
BuyLegalMeds is the world's first CBD dispensary that was established in 2015. We offer only trusted products backed by science and made with the purest ingredients.