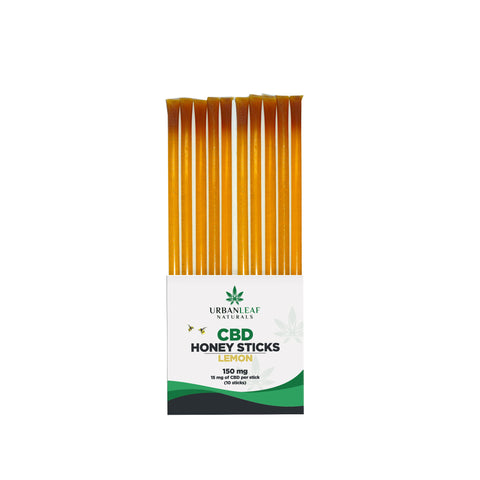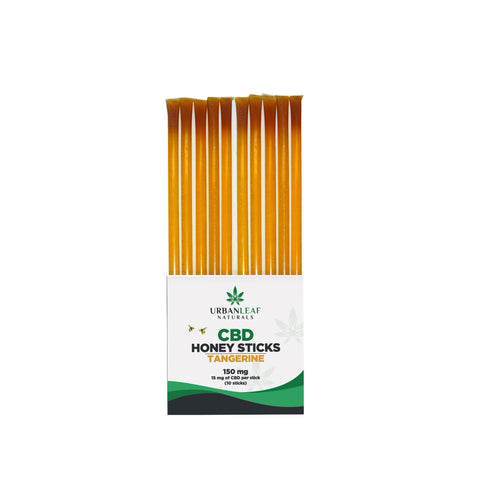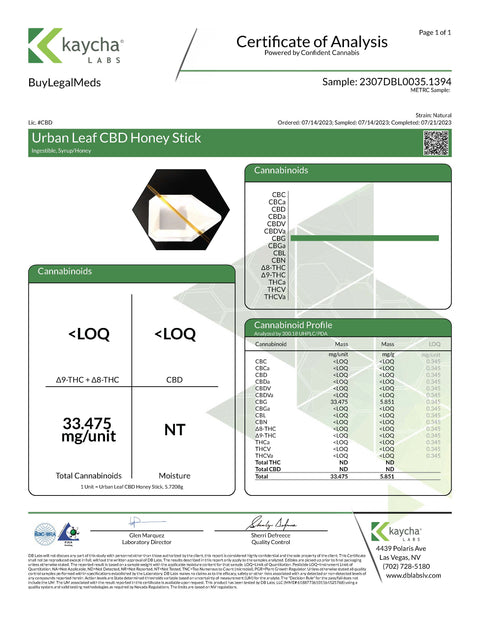 UrbanLeaf Naturals CBD Honey Sticks: 10pk - 200mg CBD
Looking for a delicious and convenient way to add CBD to your daily routine? Look no further than UrbanLeaf Naturals CBD Honey Sticks! Comes in lemon and tangerine flavors. These tube-like sticks are filled with a mouthwatering blend of CBD and pure honey, making them the perfect snack or addition to your favorite drinks and foods. Whether you're looking for an easy way to infuse CBD into your diet or simply want a tasty treat to enjoy on the go, our CBD Honey Sticks are a perfect choice. Get yours today and discover the delicious, convenient way to enjoy the potential benefits of CBD!
Instructions
Bite or cut off the end of the Honey Stick. Suck on the stick like a straw or slowly pour its contents into a drink or food of choice. Daily use is recommended.
Ingredients
CBD and Pure American honey.
Product Notes
10 pack sticks with a total of 200mg per pack.
Shipping
Attention: Due to rising temperatures, if you're purchasing any of our edible products, we strongly recommend selecting the 'Cold Shipping' option at checkout to ensure they arrive in perfect condition. Please be aware that we cannot assume responsibility for any melting that may occur if this shipping option isn't chosen. Thank you for understanding and happy shopping!
Our processing time is typically up to two business days to ship, but can be up to 3 business days if we are experiencing a high volume of orders. However, if you place your order before 2 pm Pacific Standard Time (PST) on any day of the week (excluding holidays), we will do our best to ship your order on the same day, but this is not guaranteed.

Please note that we cannot guarantee shipping times once we bring your shipment to USPS as we are not affiliated with the United States Postal Service (USPS). If your package shows as "delivered" according to the USPS tracking information, but you have not received it, we recommend contacting USPS for further assistance. If contacting USPS does not get your package to you, please provide proof of conversation with USPS and email us at support@buylegalmeds.com.
30-Day Guarantee
Don't love your purchase or something went wrong? No problem! We offer a 30-day money-back guarantee or replacement for any unsatisfied customers. Read our refund policy page for more information located at the footer of our website.
Taste the honey
Our CBD honey sticks are a great option if you're looking to start incorporating CBD into your diet. These sticks are a delicious blend of organic hemp oil and honey and come in a pack of 10 for your convenience. They are an easy and tasty way to improve overall well-being by adding CBD to your regular diet. Our CBD honey sticks can be consumed in multiple ways, making them a versatile and convenient choice. Try incorporating UrbanLeaf Naturals CBD honey sticks into your routine and experience the benefits of CBD oil.
Frequently Asked Questions
Learn more about our UrbanLeaf Naturals CBD Honey Sticks
CBD honey is a honey infused with CBD, a compound found in hemp plants. CBD is known for its potential health benefits, such as reducing anxiety and promoting relaxation.
CBD honey can be used in a variety of ways. You can eat it with a spoonful, use it as a sweetener in tea or other drinks, or add it to recipes as a natural sweetener.
How much CBD is in a serving of CBD honey?
The amount of CBD in a serving of CBD honey will vary depending on the product and the manufacturer. It is essential to read the label and follow the recommended dosage instructions.
Is CBD honey safe to consume?
CBD honey is generally considered safe to consume. However, it is always a good idea to speak with a healthcare professional before adding any new supplement to your diet, especially if you are pregnant, nursing, or have a pre-existing medical condition.
BuyLegalMeds is the world's first CBD dispensary that was established in 2015. We offer only trusted products backed by science and made with the purest ingredients.