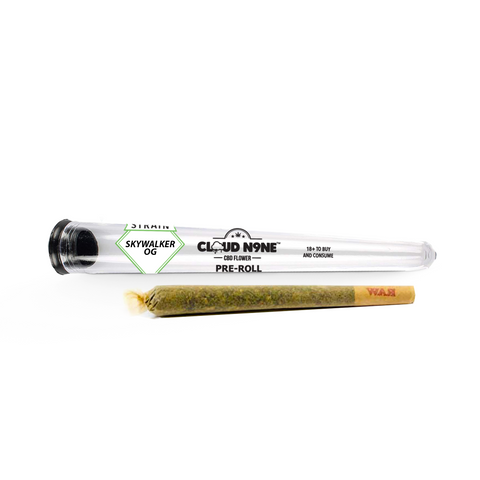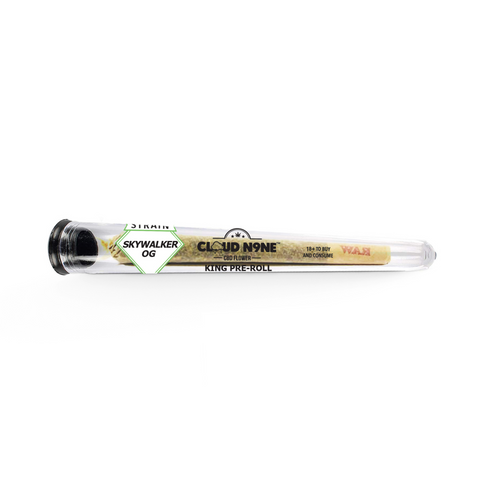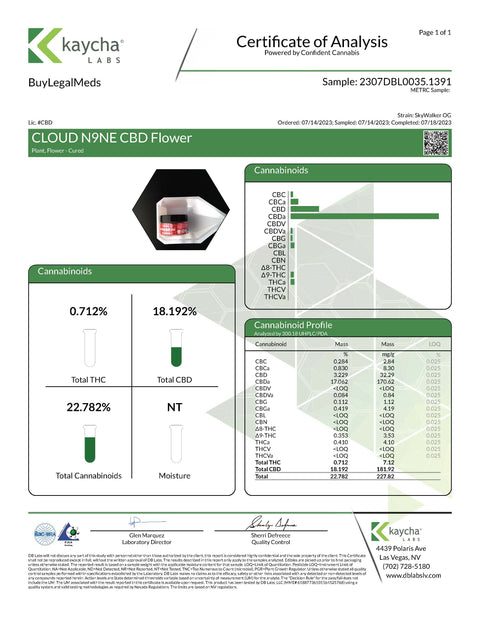 Cloud N9ne CBD Flower: Pre-Roll - Strain: SkyWalker OG (Indoor)
Experience the highest quality with our Cloud N9ne CBD Flower Skywalker indoor strain pre-roll! We take pride in our products and ensure that every Cloud N9ne CBD Flower harvest is rigorously tested and approved by the Department of Agriculture before it reaches your hands. You can trust that our CBD Flower is of the utmost quality and purity. Enjoy the many benefits of CBD with confidence, knowing that you're using a product that has been thoroughly vetted for quality. Try our Cloud N9ne CBD pre-rolls today and see the difference for yourself!
Instructions
Light it up and smoke it.


Ingredients
Industrial Hemp CBD flower.
Product Notes
Cloud N9ne CBD Flower is derived from organic hemp buds grown on Oregon farms, ensuring you get a natural and pure product. It has a quick activation time when vaped and can be consumed in various ways, including smoking, vaping, or adding it to food or drinks. Unlike THC, CBD will not produce a psychoactive "high" but rather a mild body sensation that can promote relaxation.
Shipping
Attention: Due to rising temperatures, if you're purchasing any of our edible products, we strongly recommend selecting the 'Cold Shipping' option at checkout to ensure they arrive in perfect condition. Please be aware that we cannot assume responsibility for any melting that may occur if this shipping option isn't chosen. Thank you for understanding and happy shopping!
Our processing time is typically up to two business days to ship, but can be up to 3 business days if we are experiencing a high volume of orders. However, if you place your order before 2 pm Pacific Standard Time (PST) on any day of the week (excluding holidays), we will do our best to ship your order on the same day, but this is not guaranteed.

Please note that we cannot guarantee shipping times once we bring your shipment to USPS as we are not affiliated with the United States Postal Service (USPS). If your package shows as "delivered" according to the USPS tracking information, but you have not received it, we recommend contacting USPS for further assistance. If contacting USPS does not get your package to you, please provide proof of conversation with USPS and email us at support@buylegalmeds.com.
30-Day Guarantee
Don't love your purchase or something went wrong? No problem! We offer a 30-day money-back guarantee or replacement for any unsatisfied customers. Read our refund policy page for more information located at the footer of our website.
Smoke and chill
Smoking Cloud N9ne CBD Flower offers a range of health benefits. CBD flower is a compound found in industrial hemp that is thought to have a variety of possible uses. Some people use CBD flower for its potential calming properties and as a natural alternative to tobacco products. It is important to note that smoking anything is not without risk. CBD flower is a natural and effective way to promote wellness and may be worth considering for those looking for an alternative to traditional meds.
Frequently Asked Questions
Learn more about our Cloud N9ne CBD Flower
Will CBD flower get me high?
Anything not normal feeling is high, but this is not the same as a marijuana high. Smoking CBD flower is more of a body high. An uplifting sense of relief and weightlessness.
Will I fail a drug test smoking CBD flower?
No, you will not fail a drug test smoking CBD flower. Cloud N9ne CBD Flower contains less than .3% delta-9 THC, the legal limit.
Can I smoke too much CBD flower?
Ideally, smoking too much of anything is never a good idea, but CBD is not harmful.
Depending on your tolerance and what you're trying to treat, start with a few puffs and take them from there. Everyone is different.
BuyLegalMeds is the world's first CBD dispensary that was established in 2015. We offer only trusted products backed by science and made with the purest ingredients.