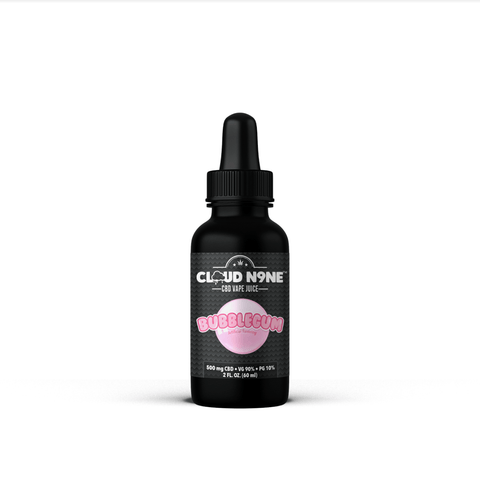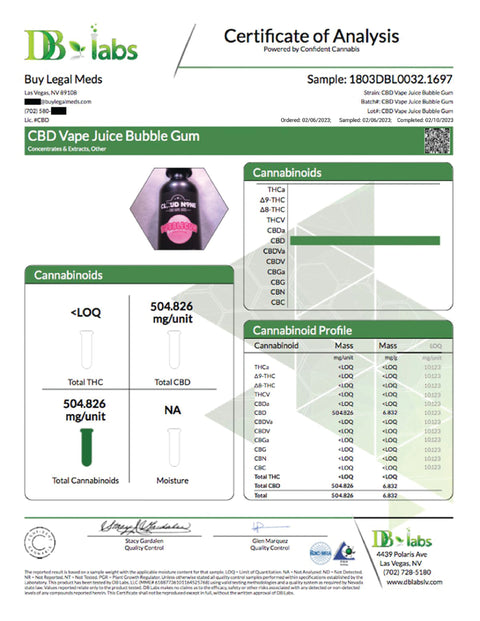 Cloud N9ne CBD Vape Juice: Bubble Gum - 500mg CBD
Looking for a convenient and effective way to enjoy the potential benefits of CBD by vaping? Look no further than our bubblegum-flavored Cloud N9ne CBD Vape Juice! Our highly medicated vape juice is made from pure, industrial hemp-derived CBD oil, carefully formulated to provide the maximum benefits. Whether you prefer to smoke it in a vape pen or electronic vaporizer, our CBD vape juice is the perfect choice for fast-acting, targeted relief. Don't miss out – try Cloud N9ne CBD Vape Juice today!
Instructions
To use CBD vape juice, you will need a device compatible with e-liquid. First, charge the battery by connecting the device to a power source using the USB charging cable. Then, fill the tank with the CBD vape juice, power on the device by pressing the power button five times in rapid succession, and adjust the temperature. To vape, inhale from the mouthpiece and exhale slowly and steadily. When finished, turn off the device repeatedly by pressing the power button to preserve the battery and prevent accidental activation.
Ingredients
CBD oil, artificial flavoring, melatonin, vegetable glycerin, and propylene glycol.
Product Notes
This 2 FL OZ. bottle contains 500 mg of non-psychoactive, CBD.
Shipping
Attention: Due to rising temperatures, if you're purchasing any of our edible products, we strongly recommend selecting the 'Cold Shipping' option at checkout to ensure they arrive in perfect condition. Please be aware that we cannot assume responsibility for any melting that may occur if this shipping option isn't chosen. Thank you for understanding and happy shopping!
Our processing time is typically up to two business days to ship, but can be up to 3 business days if we are experiencing a high volume of orders. However, if you place your order before 2 pm Pacific Standard Time (PST) on any day of the week (excluding holidays), we will do our best to ship your order on the same day, but this is not guaranteed.

Please note that we cannot guarantee shipping times once we bring your shipment to USPS as we are not affiliated with the United States Postal Service (USPS). If your package shows as "delivered" according to the USPS tracking information, but you have not received it, we recommend contacting USPS for further assistance. If contacting USPS does not get your package to you, please provide proof of conversation with USPS and email us at support@buylegalmeds.com.
30-Day Guarantee
Don't love your purchase or something went wrong? No problem! We offer a 30-day money-back guarantee or replacement for any unsatisfied customers. Read our refund policy page for more information located at the footer of our website.
Bubble gum heaven
CBD vape juice is a liquid designed to be used in an e-cigarette or similar device. One popular flavor of CBD vape juice is bubble gum, known for its sweet, fruity taste. When you inhale CBD vape juice flavored with bubble gum, you can expect to taste a combination of classic bubble gum flavor with the added benefits of CBD. Some people use CBD vape juice to relax and unwind, while others use it for its potential health benefits. It is important to note that CBD vape juice is not intended to be a substitute for smoking, and it is not recommended to replace it with traditional tobacco products.
Frequently Asked Questions
Learn more about our Cloud N9ne CBD Vape Juice
CBD vape juice, also known as CBD e-liquid or CBD vape oil, is a liquid form of CBD that can be vaporized and inhaled using an e-cigarette, vape pen, or vaporizer.
How does CBD vape juice work?
When you inhale CBD vape juice through an e-cigarette, vape pen, or vaporizer, the CBD is absorbed into your bloodstream through the lining of your lungs. This allows it to take effect quickly, often within a few minutes.
Can I get high from CBD vape juice?
CBD is non-psychoactive, meaning it does not produce the "high" associated with THC. Therefore, you will not get high from using CBD vape juice.
BuyLegalMeds is the world's first CBD dispensary that was established in 2015. We offer only trusted products backed by science and made with the purest ingredients.